December "Array of Sunshine" Table of Contents
Please use the following hyperlink in order to access the December 2013 Array of Sunshine, which features the following articles:
Bon Dewitt named as an ASPRS Fellow
FL-ASPRS Sponsors GIS Day at the University of Florida
December Member Spotlight: Thomas D. Morelli
University of Florida Team Wins CAGIS/ASPRS Student Map Competition
Charting the Land of Flowers: 500 Years of Florida Maps
Kathy's Bee Hive
Inaugural ASPRS FL-Region Research Symposium
GIS Division Activities
FL-ASPRS Sponsors GIS Day at the University of Florida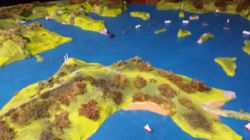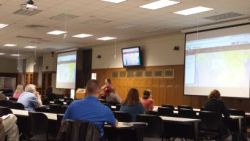 The Florida Region of ASPRS sponsored and exhibited at the University of Florida's GIS Day, an event that was coordinated by Carol Mcauliffe, the University's Map and Imagery librarian. The event  was attended by P.K Young High School Geography students, in addition to a number of University of Florida students, professors and staff. The GIS day was a huge success, with a poster competition, and a number of speakers discussing their career's in GIS. Among the speakers was our very own Al Karlin, who made the trip up from Brooksville, to speak about ASPRS, Certification and his experiences working in GIS. The Florida Region donated a $50 check and $50 worth of ASPRS Bookstore Bucks to the winner of the UF GIS Day competition.
There were also two presentations of interest pertaining to Remote Sensing and Photogrammetry: The first was entitled "Providing Access to Geospatial Data Collections at the University of Florida using EVGeoCloud" by Carol McAuliffe, where she showcased how the University is using new web based technologies in order to make their maps more accessible to the user community.
The interesting presentation was from Mark Sullivan and Matt Peters of the University's George A. Smathers Library "Unearthing St. Augustine's Colonial Heritage : An Interactive Digital Collection for the Nation's Oldest City" where they showcased the ability to geo-reference aerial imagery and historical maps directly in a web based environment.
Last Updated (Tuesday, 10 December 2013 16:39)
Bon Dewitt named as an ASPRS Fellow

Florida Region member and Board of Director Bon A. Dewitt was amongst five individuals having been named the 2014 ASPRS Fellow Award winners.  The ASPRS designation of Fellow is conferred on active Society members who have performed exceptional service in advancing the science and use of the mapping sciences (photogrammetry, remote sensing, surveying, geographic information systems, and related disciplines).
The designation of Fellow is awarded for pro-fessional excellence and for service to the Society. Candidates are nominated by other active members, recommended to the Fellows Committee, and elected by the ASPRS Board of Directors. Up to 0.3 percent of the Society's active members may be elected as Fellows in any one year.  The nominees must have made outstanding contributions in a recognized Society specialization whether in practice, research, development, administration, or education in the mapping sciences. Members of the Fellows Committee and the Executive Committee are ineligible for nomination.  This year's awards will be given in March at the ASPRS 2014 Annual Conference in Louisville, Kentucky.
Dr. Bon Dewitt is currently an Associate Professor and Director of the Geomatics Program at the University of Florida. Dr. Dewitt earned his Masters and Doctorate degrees from the Civil and Environmental Engineering Department at the University of Wisconsin-Madison in 1982 and 1989, respectively. At the graduate level he majored in Photogrammetry and Remote Sensing and Minored in Computer Science. He acquired his Bachelor's degree with a Surveying option from the same department in 1980. Dr. Dewitt is licensed as a Professional Surveyor and Mapper in the state of Florida.
Dr. Dewitt has been working as a faculty member in the Geomatics Program at the University of Florida for more than 22 years. He has been teaching undergraduate and graduate level courses in photogrammetry, digital mapping, geodesy, least squares adjustments, hydrographic surveying, subdivision design, route geometrics, as well as other mapping science topics. He has advised dozens of Masters and Doctoral students and supervised research projects that involved, for example, state-wide satellite image classification and GIS analysis, determination of ordinary high water lines using remote sensing, and the utilization of unmanned autonomous aerial vehicles for mapping applications. The University of Florida recognized his instructional aptitude by presenting him with two of the coveted "Teaching Improvement Program" Awards, in 1994 and again in 1999. He has also served as the faculty advisor of the ASPRS Student Chapter at the University of Florida for the past 19 years. He continues to encourage students to join the Society as student members and has been a Member Champion several times.
Dr. Dewitt has contributed significantly to the mapping science community in the state of Florida and nationally through many professional continuing education seminars. He has been involved in writing and quality-checking exam questions in the subjects of surveying and photogrammetry for the NCEES. He has also served as a private consultant and expert witness in numerous court cases involving forensic photogrammetry.
Dr. Dewitt started his ASPRS (ASP) services as a student member in 1981, becoming an ASPRS active member in 1989 after completing his Ph.D. Beginning with his election in 1993, Dr. Dewitt has served the Florida Region of ASPRS for over 18 years, first as a Region Director and currently as the Secretary/Treasurer. He also served on the Program Committee for two national ASPRS annual conferences – once in 1998 as the Student Volunteer Coordinator and once in 2007 as the Technical Program Coordinator.  Dr. Dewitt regularly serves as a manuscript reviewer for the Photogrammetric Engineering and Remote Sensing Journal as well as other journals in the field.  Dr. Dewitt was the author/co-author of many scientific research papers in the digital mapping and photogrammetry fields.
He is co-author with Dr. Paul Wolf of 'Elements of Photogrammetry – With Applications in GIS,' which is one of the most widely used photogrammetry textbooks, both in the U.S. and throughout the world.
Dr. Dewitt has received several ASPRS awards during his professional career.  As a graduate student, he received the Bausch and Lomb Photogrammetric Award (1981) and the Wild Heerbrugg Photogrammetric Fellowship Award (1982).  In 1996, he received an ASPRS merit award, and in the same year he received the Intergraph award as a co-author for best scientific paper in spatial data standards. In 2001, he received the President's Award from the Florida Surveying and Mapping Society.
Please join the Florida Region Board of Directors in congratulating Dr. Dewitt in this crowning achievement!
Last Updated (Friday, 13 December 2013 17:31)